Ladies, I am pleased to present finished FO pics of my latest garment,
Flutter Sleeve Cardi
. It turned out great! (If I say so myself! ;-)
Anyhow, not going to be much of a write-up. It's late and I would like to go to bed.
Front: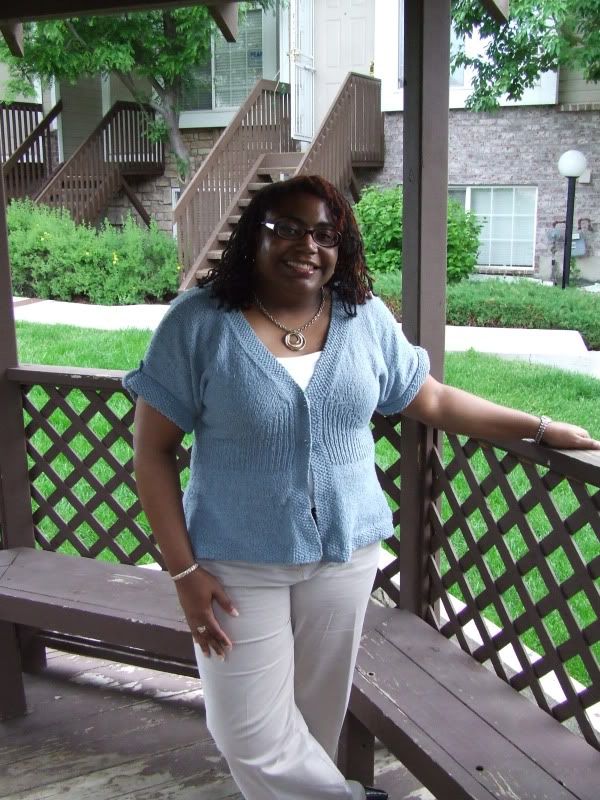 The pictures were taken at the end of the day and M is no stylist. Overall, I am very pleased with the look and fit of this garment. If I were to make any changes, I would add a third button and perhaps make the cardi a smidge longer, but really no complaints. I am seriously entertaining the thought of a second one. When I would get to it, who knows, but it certainly a winner in my book! Yay for finished projects.
This is number 4 for NaKniSweMoDo. Got some catchin' up to do. Oh and in the photos, you might notice that I added some highlights to my hair.
And lastly, this is really last minute and I do apologize. My only family member here in Denver was diagnosed with a disease, scleroderma, a couple of years ago. This weekend, I will be walking for the second time in the Steppin' Out for Scleroderma Walk. This disease doesn't get as much publicity as others, but it can be life-threatening to those affected by it. Thankfully, my cousin is okay, but she has a lot of health conditions, including hardening of the skin, which can affect her organs. It's also scary because it can be hereditary too. I walked last year and didn't receive my registration packet in the mail, so I just signed up online yesterday. If any of you are able to contribute to the fundraising efforts, I would appreciate it. At the top, right-hand side of the page, you will see a widget to the donation website. You can also go directly
there
to donate as well. If you can't, that's ok too.