As I mentioned last year, I'm no longer doing knitting resolutions, as I am doing monthly goals instead. This year I signed up for
NaKniSweMoDo
. Yes, I know a collective gasp of shock has rippled through the crowd. Although I didn't finish a ton of sweaters for 2008, I'm using NaKniSweMoDo to motivate me to turn many of the sweater yarn amounts I have into sweaters. One of the main points of this idea that I embrace is turning WIPs into FOs, as well as counting vests and tanks for adult-sizes as finished objects as well. These points work well for me and I'm motivated to do it. I've been planning some various sweater projects.
I'll be the first to admit that I'm not the fastest knitter around, although I do okay. But I am fairly persistent with knitting and even enjoying the long slog of some sweaters. My main goal is to end up with more sweaters that what I started with. My goal is 12, but if I don't make it, I won't beat myself up about it.
I started out the New Year with casting on for a vest. Last year, I got the bright idea to knit a few vests, as I do actually like vests. I cast on for the
Back to School U-Neck
on the first of the year and have been making good progress so far. I started out on a 32-inch cord, but it was too long and had to move down to a 24-inch needle. Once I did that, the 2x2 ribbing started flying.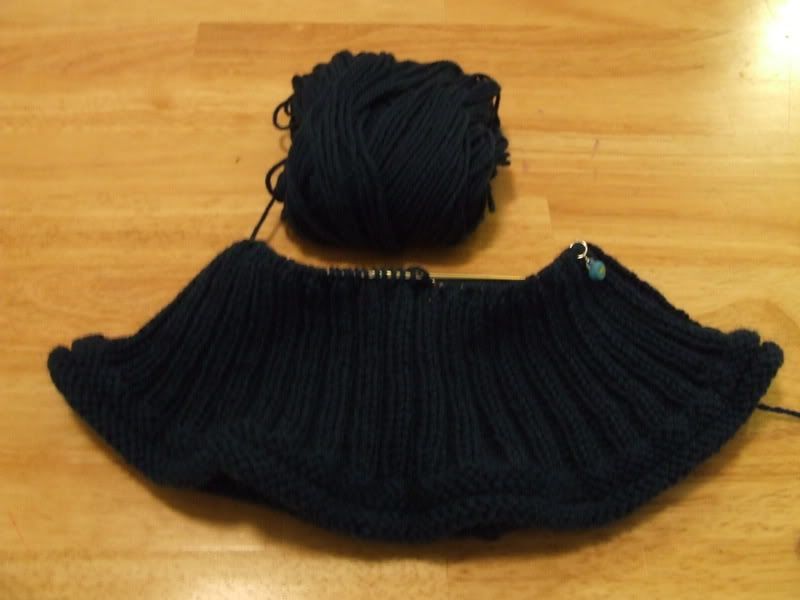 That's the first project on the needles for NaKniSweMoDo project. Here we go!