This summer I knitted quite a few washcloths for my knitting girl friends, for our knitting camp weekend. Since then, I have been on a cotton bender. I have finally turned the corner and while I am still knitting some cotton, it's not the only projects on my needles that I'm actively working on.
Here are some of the finished cloths, many of which were made from the leftovers of Reynolds Morocco (a bulky cotton/linen blend):
Garter Ridge Washcloth from Knitter's Stash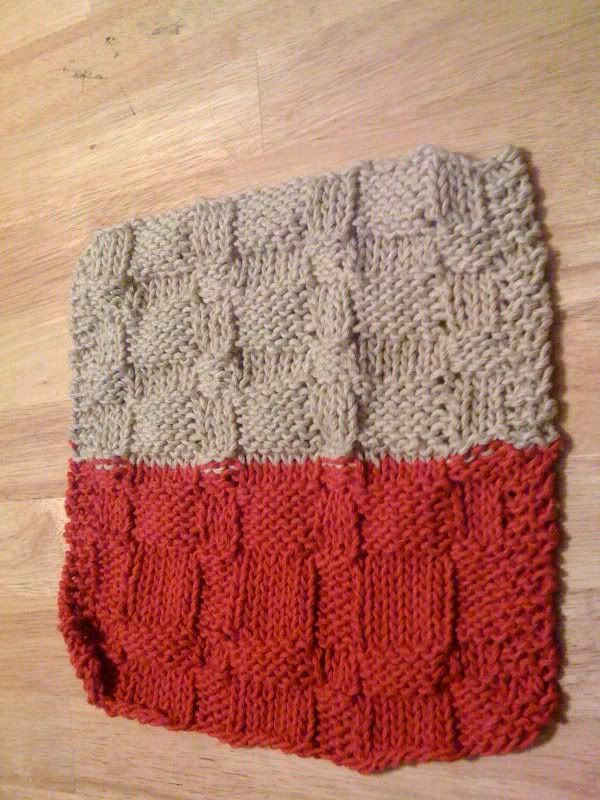 Basket Weave Cloth
Starfish Cloth from
Leisure Arts #3892 designed by Evelyn Clark
Berries Cloth (Leisure Arts #3892)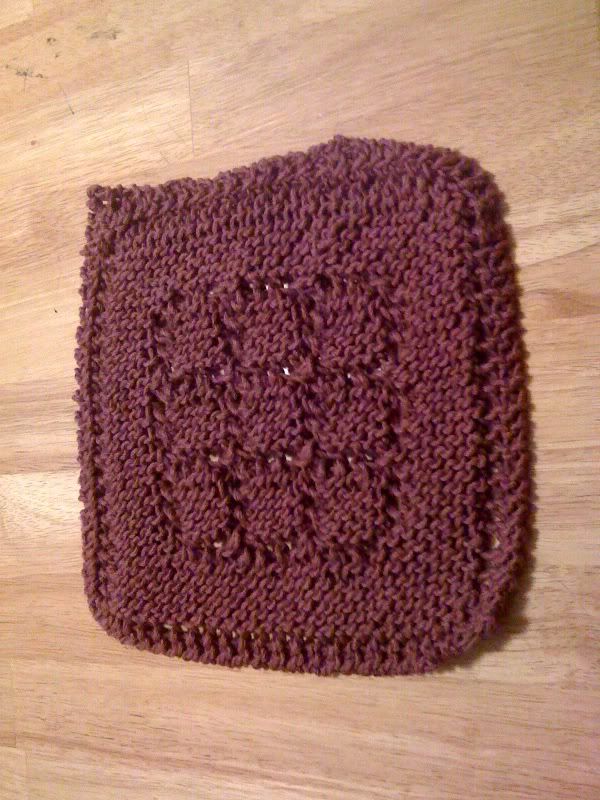 For the cloths, I used Reynolds Morocco, a discontinued bulky linen/cotton, for the Berries cloth, Garter Ridge cloth and the Basket Weave cloth. I used Sugar N' Cream for the Starfish cloth and the Bubbles Border cloth.
I have another cloth that wasn't pictured yet, but it is late, so I will upload it next time. I have cast on for some new projects. Lately I have been in sock heaven and have 4 pairs of socks on the needles. I ripped out one sock that wasn't working out and have cast on for three new pairs of socks, while needing to finish the second sock of a pair I've been working on for awhile. I also cast on for Tomato with some lovely bamboo/silk yarn which I will have to share with you all soon.
One of my LYS is going out of business. The owner has owned the shop for 30+ years and did not find a seller when she was interested in selling the business. As the owner has gotten older, she wants to retire, which is understandable. Strawberry Tree closes its doors on August 31, 2009. This was not the store where I learned to knit, but one that I spent considerable amounts of time after my first knitting class. In the past 8 years since I have become a knitter, I have spent many memorable hours shopping, conversing with customers, winding yarn, sifting through old patterns and sitting and knitting. It breaks my heart that the store is closing, although I completely understand the reasons why. I live very close to this store and will no longer have the option of just popping in on my way home for no particular reason, or to visit one my friends who works there. Things change and we must adjust. I am sad to see this LYS close. Thankfully I live in a city with several yarn shops, but it is still sad to see a beloved yarn store with so much history close its doors. I suppose it is a good thing the shop owner is able to close the shop on her own terms.
School is back in session and I am back in the swing of things. I hope to be back here to post soon as well.