Finally, without further ado, let me present to you,
Cabaret (Red) Raglan
from the front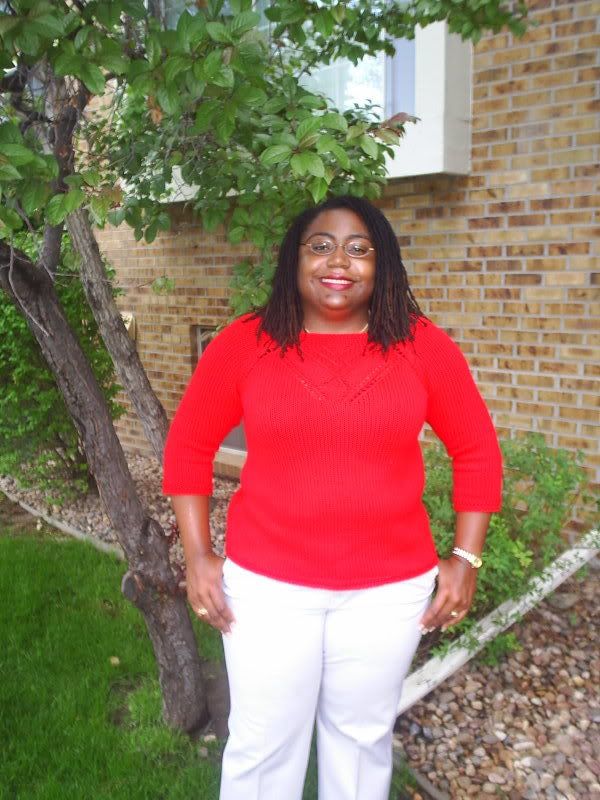 from the back (where you can see the raglan armholes with yos to create the lace effect)
and lastly the unfortunate "boob" shot, but it does show the lace/cablework at the front which really makes this top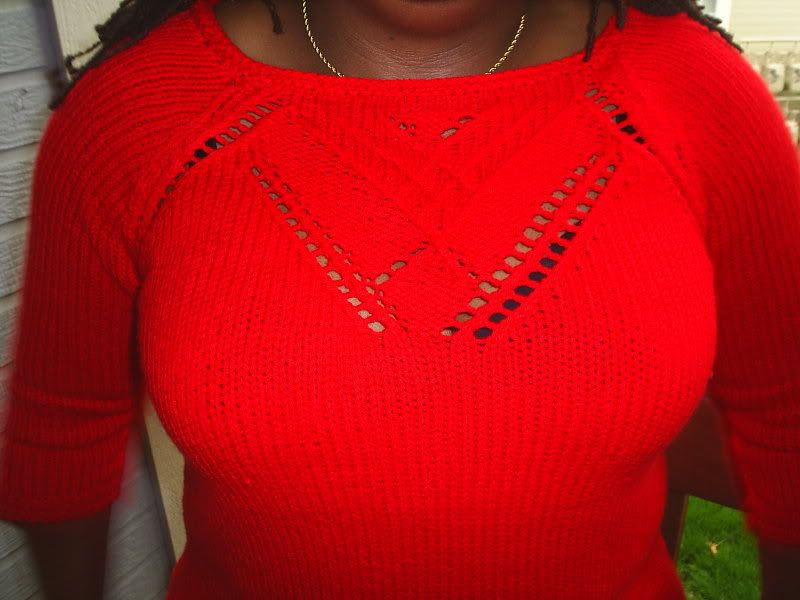 Pattern:
Cabaret Raglan
(scroll down for the top)
Yarn used: Lion Brand Cotton-Ease in Cherry Red (now discontinued), used 4.5 skeins
Needle size: sz 7 or 8 needles, unfortunately I can't recall and I'm a bit too lazy to look it up now
I love this sweater! I'm very pleased with the fit. I really didn't do a gauge swatch (bad, bad knitter, I know). I did check gauge later and found I was on target. I enjoyed knitting it, even though there was lots of stockinette, it's not nearly as long as knitting M's sweater. If I were to change one thing, it would be to add waist shaping to the pattern. I've never knit a sweater without before, so I decided to try it to see how it looked. I think the fit is good, but I would prefer a bit of waist shaping, so now I know. The sweater is very comfortable and I think it looks great on. It is very wearable, as I wore it to work today and I had no worries about the yarn getting caught on anything and with the slightly cooler temps today, I was able to wear it without getting too hot.
One change I did make was to knit the neck in the round instead of knitting flat, but once I picked up stitches to knit the collar flat, it wasn't working right, it looked goofy and after the third time, I was over it. I could just knit it in the round and it looked fine that way. The ease of sewing up raglan sleeves is a beauty unto itself. It turned out well and I'm very pleased.