Hello all, blog much?
Life has been good, but incredibly busy. Now that the lacrosse season has started, esp. now with the game season starting (practice has already started in mid-March), I'm a busy bee. The game,
lacrosse
, is very different from what I'm used to. When I was in high school, it was just the basics, football, basketball and baseball. But M2 wanted to play, so what are we to do, but to enroll him in it. He loves it and although I don't understand what is happening in the game, I do get to sit and work on socks, so it's not all bad.
Something I had managed to start up and not blog about at all is the
Cabaret Raglan Pullover
from IK Summer '04. I think it was last year I went through some of my knitting magazines and pattern books and determined I could use my oh-so-fabulous designer yarn, Lion Brand Cotton-Ease in Cherry Red for this project. I found another blogger who'd done the same and so far, I'm just loving it. I had some free time in a training class two weeks ago and cast on for it and the knitting just flew. I finished the chart yesterday and wanted to shoot myself, but it was only 40 rows and then the chart crap was over and I'm quite pleased with the front of the sweater.
The charted top for the yoke is what really makes this sweater for me and it wasn't so difficult that I couldn't do it, but it had enough interest that I wanted to knit it and it was a bit different from the loads of stockinette knitting that I usually do. This pattern was designed by Norah Gaughan. She has many patterns that I love to look at, but this is the first that I've knitted by her. I think I will really like it, except for the lack of waist shaping, but I did choose to not incorporate it into the sweater, so that would be my fault. I was also curious to see how it would look without shaping as all my other sweaters have always had some form of shaping.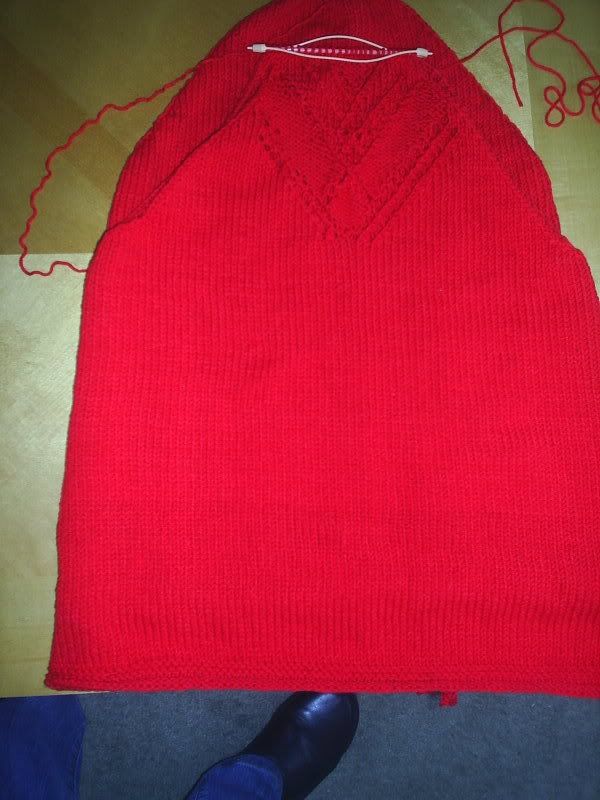 So far, I have both the fronts knitted and now I need to get started on the sleeves. Sleeve Island, here I come!
My mom came out to visit last weekend for Easter, so I was pretty busy. It was great having my mom here, she hadn't been to Denver to visit me since '02, although in '03 I moved to TX and in '04 moved back here and I've seen here plenty, just not on my own home turf. And she'd not even seen my new place, so I was quite thrilled to show that off too. We hit the road shopping at the outlet mall the first day she got in and then rested after that! So funny. My mom has recently relocated to Atlanta to be near the grandbaby and she had loads of funny stories to share about being nearer to my sister. I loved it. And while I love my family, I can't be right next door to them. I need that distance. ;-) And because my sister sent me some new pics of the nephew, here's a cutie pic of him just because.
Later all.