I finally have a finished garment that I can show on the blog. You might be surprised to see that it is the
Back to School UNeck Vest
by Stefanie Japel, instead of the Ribby Pulli, but pics will be coming.I finished the Ribby Pulli first, but have not yet had a chance to get modeled shots.It is super comfortable. I have already worn it twice.
Now on to the Back-to-School U Neck Vest. This project was very easy, as evidenced as I knit it in just over a month. I would have had it completed by the month's end if I hadn't screwed up sewing the seams. This vest is knit in the round, until you get to the bust area. When I needed to seam the shoulders, I ended up seaming them to the wrong sides. And then I wove in all the ends quite well. I was not able to find the ends and had to wait to take it to my LYS to help find the end(s), so that I could seam the correct sides together.
Now, for a couple of shots.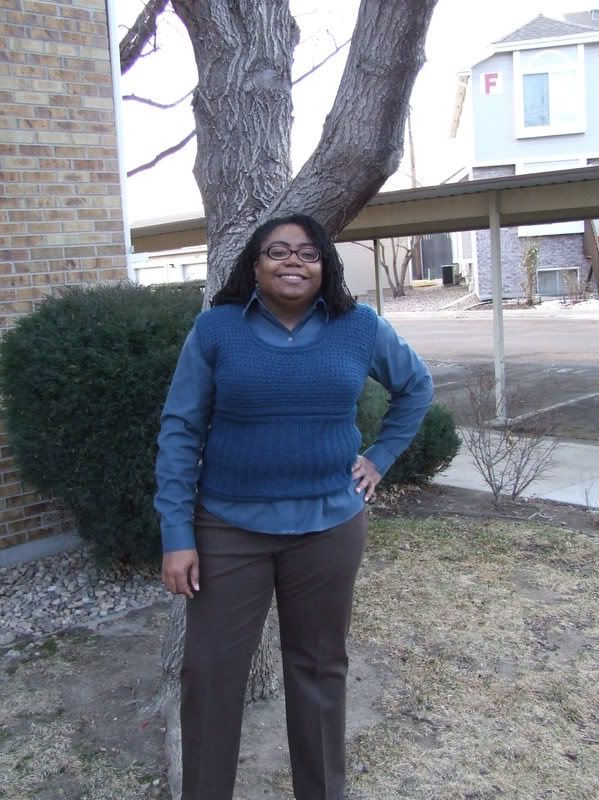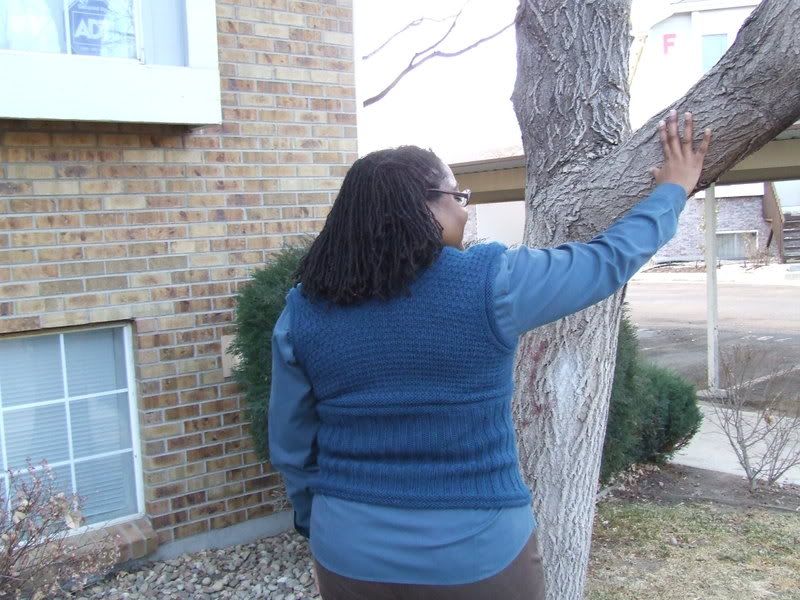 Project Details-
Yarn used: Cascade220 in a blue-green variegated color, 3 skeins
Needles: US 7 (4.5mm)
Length of project: started January 1, 2009 and completed February 7, 2009
Mods: I didn't make any modifications to this project and knit it as written. It was an enjoyable knit and I liked the addition of bust darts in the vest. Very quick and easy even with loads of 2x2 ribbing. I love how the vest turned out and it looks great with my teal shirt or I can wear it with a white shirt. The vest was the perfect amount of warmth too. While wearing it, I never felt too hot, which is always a concern for me. All in all, a great project. Here's to NaKniSweMoDo!