In December, I
postulated
what I expected to complete that month. Those results were semi-satisfactory. 50% of my goals were accomplished.
As mentioned in the previous
post
, I completed the Sister scarf, as well as the Good Luck cowl. The Ribby Pulli sweater is still going strong. I worked on the yoke, but realized that apparently my row gauge was different than the pattern called for. After I completed my decreases, I still had 4 inches of knitting to do, for the sweater to fit correctly. Once done, then I had to pick up a zillion stitches around the neck for 2x2 ribbing. However, I did not pay attention to the amount of stitches I was supposed to pick up. With
Bonne Marie's
patterns, I should already know that she is very thorough. I just picked up stitches and didn't count the number that I had. I'm sure I had far too many. When I finished the neck, I was so happy that I wove in the ends, my first mistake, and tried it on Big disappointment, as the neck is too floppy, which makes the sweater not wearable.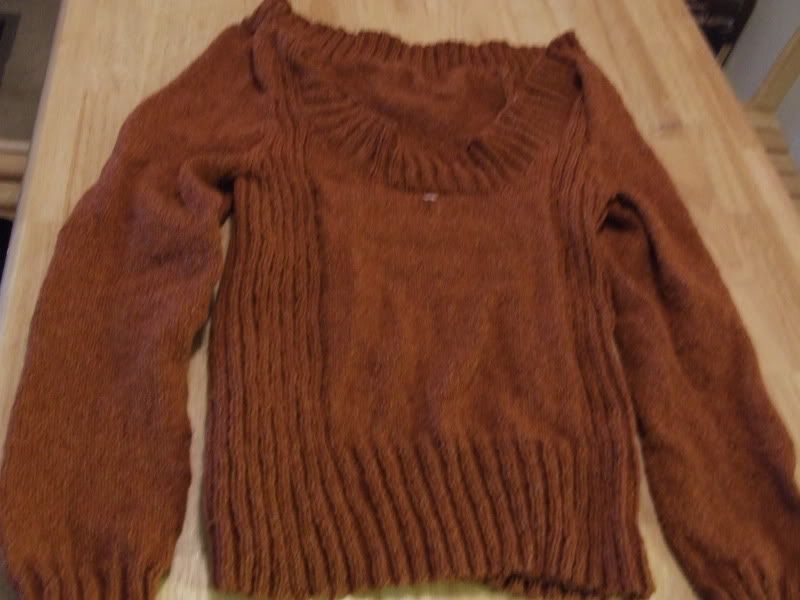 Darn it all, but I'm sure once I get the rip the neck and redo, I'll be on the right path. This sweater really does not want to be completed. Or rather, I guess I get the pleasure of knitting with Silky Wool a bit longer.
I never even made it to working on a hat at all. I really need to get on it. It's been pretty cold here lately, so you would think I would be motivated. Lately, I've been in a mood of casting on. Startitis has been going around in these parts.
Knitting goals for January:
1. In the spirit of keeping warm, I should knit myself a hat. Hopefully with leftovers from my Malabrigo Ruffles scarf.
2. Finish M2's candy corn socks. I'm on the second sock and have finished turning the heel and picked up the stitches. I've finished the increases and just straight knitting on the foot. Hopefully I should be able to finish them this month. I'm ready to cast on a pair of socks for me.
3. Continue to make progress on my new vest project.
4. Cast on for a second Ruffles scarf.