it feels like I've been blogging, because I've been thinking about blogging. Hmm, it's funny how lack of time keeps you from doing things. In the good news department, the job that I started in January, the training is finally over. That's right people. I've had to pass two tests, then "official" training for 6 weeks, which inluded 3 assessments, all of which required a 85%. The final assessment included a written, computer and role play assessment. I'm so happy for the training to be over. At least now, I won't have to give up anymore of my life to studying on the weekend and stressing about financial stuff. Now I can really do my job and leave it there and that I'm really looking forward to. I would like to say that my life will be back to normal, but what really is
normal
? I've never qualified for it before, so why should I think that this phase in my life will be any different.
Thanks for those who offered support to me. It is different, being cast in the "stepmom" role. It's not entirely new at this point, but still ever-evolving. It's the work factor thrown in there, that goes, oh yeah, with training that wears you out everyday and then coming home to more work, well, no wonder I am tired. But it's all good, just adjusting to life as it happens, I suppose.
Enough blather about non-knitting stuff. As there has been knitting happening too. I'm very close to finishing the Bliss cardi. I finally cast on for the last front this weekend and after the picture I snapped last night, I have a few more stitches to bind off for the neck and then it goes on stitch holders and then it gets to start being sewn up. I'm actually excited enough to start sewing it up soon. Oh, I guess I should do something about that zipper, huh? How do you decide the zipper length? Meaning, should I wait till I finish the collar and then measure it? I'm assuming that will be the way to go. I wanted to try out Zipperstop, but I may just buy a zipper locally, we'll see what the options look like.
The socks that make me happy are my Opal socks. Just an easy, sweet relief after fooling around with the Lorna's Laces sock yarn. I don't have to think about it, just keep knitting. It's very lovely.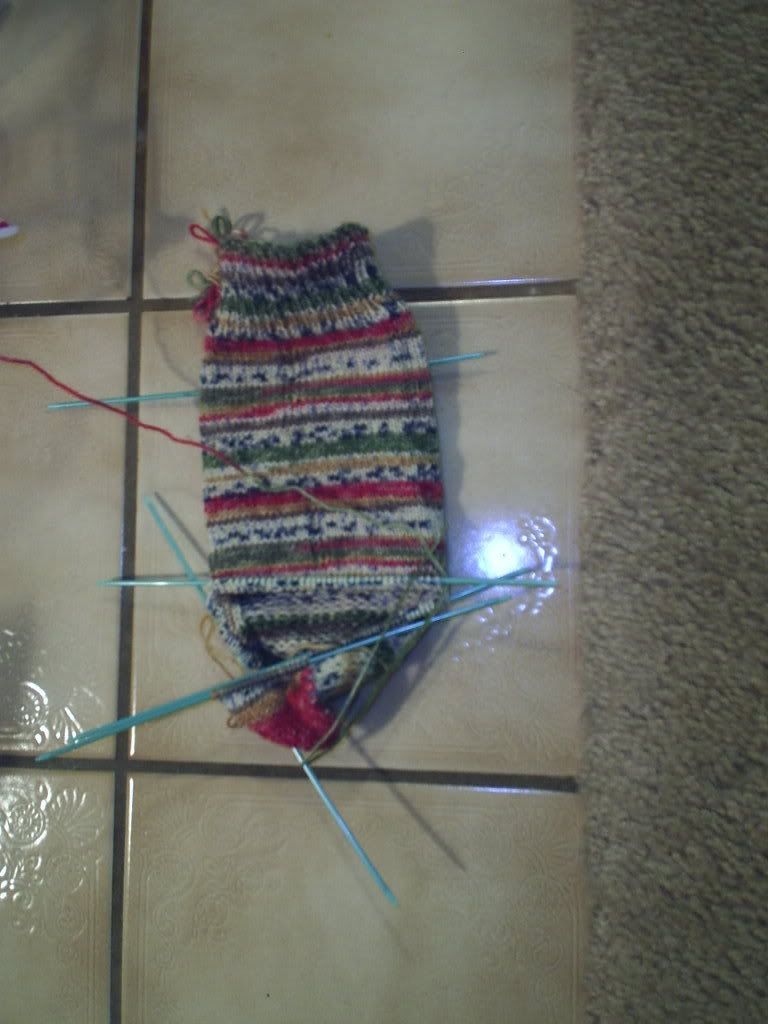 I've finished the heel flap, as well as turned the heel and picked up stitches. Now it's nothing but knit, baby!
As for the other sock, well, it's been started, but I tried to do a pattern from the Sensational Knitted Socks book, called Twin Rib, I think. But I was do brain dead to do this pattern and I didn't get far enough for the pattern to show up. I don't know if I really care too. I think I will just rip back to the ribbing (b/c I have no desire to redo the ribbing on size 0s, thank you very much) and do the
Dublin Bay socks
(which the hyperlink is a .pdf). Maybe, unless I figure out something else. Obviously this sock is not the high priority here.
Oh and in regards to my last post, I did in fact, fall off the stashalong. I bought sock yarn and it felt good! ;-0
All for now, I promise to check in later this week, maybe by the week's end.