First of all, thanks to everyone for the comments on the Hippy Chic Cardigan and on Donna. I've decided for now to keep Donna as is. I will weave in the ends and wear it and see how I feel. If I don't like it, then I will figure out my next step. And as for the Hippy Chic cardigan, I'm keeping the solid sleeve. It's been truly a joy to knit this yarn. I'm loving it so much. I even finished the first sleeve, see:
It seems I have so many projects on the needles, maybe 5 or 6, but violating my rule of 4, which was something
Joanne
mentioned a few years ago and I really like this idea of having no more than 4 projects going at once. It makes the most sense for me, as I must have multiple projects on the needles, something simple like a sock usually, and other projects, which can be simple stockinette and other complicated projects for when I get bored with the simple projects. But when I get bored, it's nice to have a challenge and so on. But lately, I've had my needles in everything. Someone barely mentions a KAL and boom, I'm joining in. Since I wanted to get some things off of my needles before I can start something fun like a
Clap
, something must come off the needles. And the Thandi scarf is now off of the needles. It is currently blocking, on my lovely blocking board (hee-hee), the same one that
Michaele
and
AmyB
both have.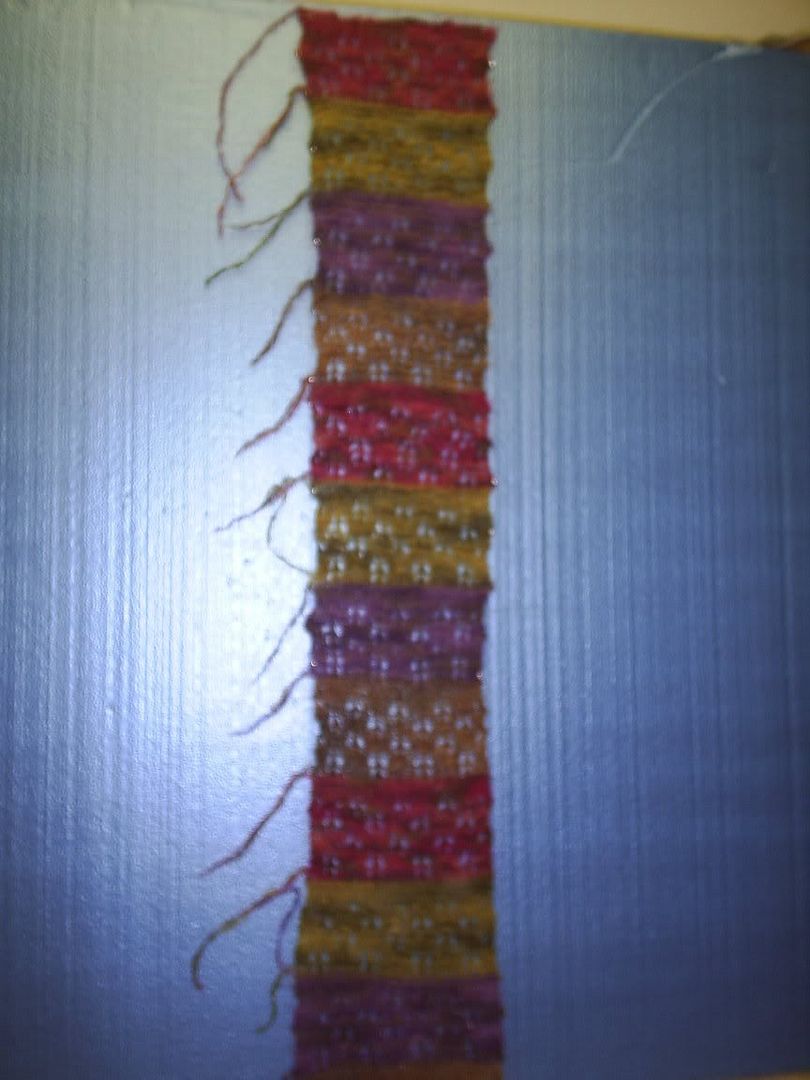 I also finally cast on (almost 2 weeks ago) for
Spork
and have the beginning of it to show.
Stacey
,
Cyn
, and
Cathi
and I all decided to make our bigger, so we cast on 1.5 times the amount that the original pattern called for. I haven't gotten very far and actually decided for right now, this project is still in the lineup, but I am saving it to knit at knitting get-togethers with my friends as I have other knitting that I am trying to crank out. But here is the start of Spork.
And lastly, here's the second M2 shorty sock, thus far. I finally moved past the ribbing and worked the heel flap, turning the heel and picking up stitches. Now I'm just working on the foot, alternating with decrease rounds. I felt pretty bad when I was whaling away on my HippyChic Cardi sleeve when M2 asked me if his other sock was done yet. How bad am I? So busy working on my cardigan that I'd short-shrifted the sock. I did finish the sleeve b/c I was very close, only 2-3 rows before binding off, so I did bind off, just to get it over with and am now concentrating on the sock. Maybe I'll have it done before the end of October, oops, excuse me,
Socktoberfest
. All I do have to knit is the foot!
Next up, more projects in the knitting lineup, or what I want to finish this winter.