That's how far I am on this Tempting. It's moving right along now, finally. I am now at a point where I can start working on the sleeves, not that it's all that much different. Just more ribbing in a different area. I'm a bit concerned about joining the sleeves to the body, but we'll cross that road when we get to it. I don't want to go out and buy more dpns, but that might have to happen. Oh well, more things to worry about later.
I've been so busy lately at work and in my personal life, that when I come home, I barely look at the computer, as well at work I have no time to blog lately! Ack, what is the world coming too? I guess that's a good thing, but since I came back from New York, it seems I can barely keep my head on straight. Must be the price you pay to take a vacation.
I did finish the nursing shawl earlier this week. I have yet to actually wash it, but I will do that this weekend and then get it shipped out. Here's a picture:

My little nephew Chason is almost 2 weeks old and is headed with my mother and sister (his mother) to my mom's house in Louisiana and rest there for a couple of weeks. I hope my sister will be happy with her nursing shawl. I was ever so pleased to be done with it.
I cast on for the front of Donna. I have decided that I want shorter sleeves, as I can't imagine even having 1/2-length sleeves in the heat that we have begun calling summer here.
Not as much knitting was done over last weekend as I would have liked, except for getting together at Borders this past weekend. I saw Michelle in her fabulous summer poncho that is supposed to take one day according to the owner of
Knitty Cat
, who wrote a quick-knit poncho pattern using bulky-weight cotton yarn. It calls for 3 solid colors and one variegated. I bought the yarn last year, but never made it.
Here's
Michelle
in her poncho, looking lovely as usual.

So of course, since I want to be just like
Michelle
, I want to make one too. Actually I bought the yarn last year and it was listed in my summer lineup of knits.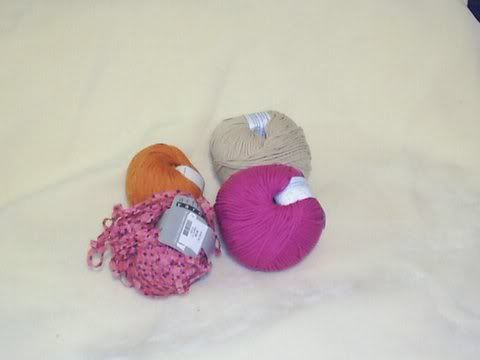 I am planning to cast on for it this weekend! Michelle said it took her only 8 hours, and
Stacey
said it took her 2 days, so I will give it a try.
Although, after seeing
Shelby
post about
Glampyre's teeny weeny shrug
that only uses one skein, I think I might have to get the pattern and get started on it. I'm ready to do it, like right now. It's so cute and doesn't use a lot of yarn, so we'll see how the weekend progresses.
Just to show you how I spent most of my day last Sunday, which was spent shopping, but mostly for M's son, who will be spending 3 weeks with his grandparents in NYC. There were a few goodies for me, though:

Cute summer shoes! Yay!
That's all for now. Hopefully I can post again between now and the weekend.