Since I've been back some knitting has been happening, but not that much. Now that I'm back home, it's back to work and regular life. I'm also working 11 a.m. to 8 p.m. this week and that me all off. I like going into work later, but I also don't want to get up and leave after I've been home that long in the day. In the evenings I've just come home and crashed or stayed up a bit to talk with M and then ready for bed. I have been working on the nursing shawl for my sister and it's gotten even bigger since this picture and I'm getting close to being done.

I didn't ever post the finished back of Donna or the tank, so here are those pics:

and the tank still needs to be sewn together as well as do the crochet loops to give a "dropped stitches" look on the front V-neck, but the knitting part is done!

And I've been ever so painfully cranking on my poor little Tempting. I can't wait to be done with the nursing shawl so I can work some more on Tempting and Donna and get these puppies finished. Although I guess I shouldn't complain so much, it just seems like Tempting is taking it's slow sweet time. 2x2 ribbing just gets boring after awhile. Not like stockinette is so exciting, but I like it better I guess. And when I was working on the stockinette portion of Donna, it just flew. Tempting is moving at a snail's pace and maybe it's the yarn, although I do really like the color, nah, I think it's just the ribbing. Ah, well, enough of the complaints. Here's a pic of Tempting at it current 12 inch status.

The pattern calls for me to go to 13 inches and then begin putting stitches on waste yarn for the sleeves. But since I don't want this to be a cropped sweater, but not too long either, I decided that I want this top to be 22" long, so I need to knit to at least 15 inches, before doing anything else, so I will keep going.
And in baby news, should you wish to see a couple pics of my nephew, here's Chason:
sleepy Chason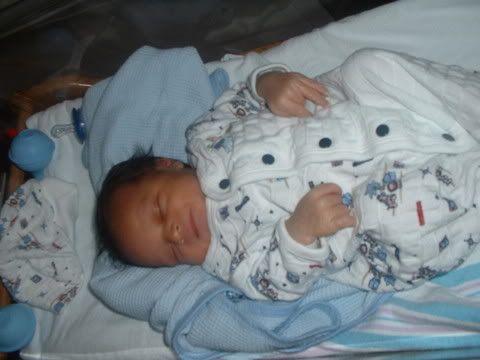 and chillin' on his Boppy (look at those long fingers!)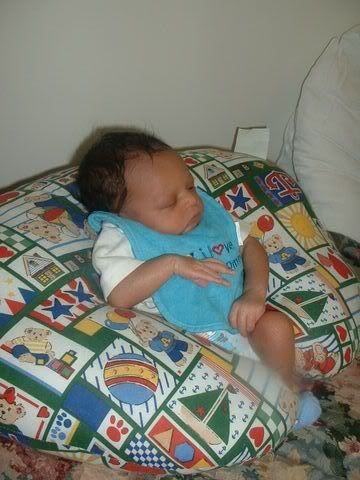 and lastly, one of my mother (the proud Grandmother), Chason and Daddy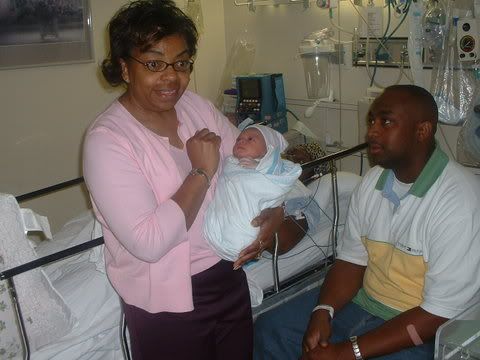 Tonight I'm going over to
Stacey's
to watch the ER finale and get some knitting in. Talk to you folks later.