Wow, two posts in two days, what is the world coming to? And two FOs in two days! Can I get woo-woo? Okay, so I'm a little psyched. Anyway, this montrosity that hung around like the proverbial monkey on my back is finally completed.
I started this project two summers ago when I was living in Dallas, TX. When I bought the yarn and pattern, it was my first year of knitting. Whilst living in Dallas, my knitting skills were emerging, but still a pretty novice knitter. Since I'd initially purchased the yarn and pattern in Denver and then moved to Dallas, I didn't feel comfortably asking a yarn store there for help and the knitting groups I did attend in Dallas didn't meet that frequently. And over the summer, it seemed none of the knitters I knew even had time to get together. So once I hit a bump in the pattern I didn't understand, I just put the neck stitches on holders and left it alone.
I vowed to myself that the next summer I would pick it up again, but last summer was far too busy. I'd just met M, my best friend moved out here from Missouri and was living with me, I was looking for a condo and then subsequently moved into it (which was a lot o' drama) and starting a 2nd job (part-time), so needless to say I never picked up the second half. I just carted it around on a couple different moves.
This summer, the goal was to either finish it or rip it. As one half of a tank top with no sleeves was already done it seemed foolish to not attempt to at least finish it. After I started the second top, I realized the gauge I had 2 years ago was a lot looser than now and I was concerned the size top I made was going to be too big. I cast on for the largest size, a 40", but now that looked a little large. Now don't ask me where I got the feverish idea that I could make the second half 3 sizes smaller and they would both fit together! After I finished it, I was really concerned about it, but yet, it did work.
As I knitted the second half, I kept measuring against the finished one, so as far as the knitting was concerned, it was a perfect match. I noticed as I did the ribbing on the second one 2 or 3 times (I ripped it out a couple of times to get it right), that the second half was going to be much larger, I counted the number of stitches in difference and just made the second smaller, which worked into making the 3rd size, as opposed to my original 6th size. If I were to make this over again, I would just obviously do a gauge swatch to see which size I would make again, probably the 38. The funniest thing just happened, I looked at the pattern to see what the largest size was and realized that the bust size was a 42! I think when I first started knitting, I found in most situations, my size was the XL, usually 38-40". And depending on the ease or lack thereof, I might make it a little larger if I didn't want something to be skin tight. The other Sirdar patterns I've knitted usually had the 40" as the largest size, so I'm sure I assumed this pattern that 40" bust was the largest too, but a 42" is a bit big for me. I'm really a 38" bust, although lately with a little weight gain, it's a 40", but I'm not planning on keeping this weight, so we'll say normally a 38" bust. That makes sense why I thought the 1st half was so big and if I'd made the second half that size, I would not have been happy with how it turned out. In the end, it turned out pretty good.
In fact, I'm really quite pleased with this top. I stayed up till 1 a.m. weaving in ends (not that it took that long, just didn't start it until 12 a.m.) and then threw it in the wash and dried it this a.m. I put it on and with trepidation in my heart, looked in the mirror and it fits! I love it! I think I love this one more than all my other ones. Some of the other tanks that I love the v-necks, I don't want my whole bosom flashing and that has happened a number of times that I can wear it out, but if I were to wear it to work, I'd be pretty self-conscious. This one can go everywhere. I definitely think this pattern will be a template that I will use again. I will probably make the neck a little lower next time, not down to the bosom area, but I don't usually like tanks so close on my neck, although this isn't like the turtleneck feel that makes me feel like I'm choking. The picture on the pattern front makes it look higher than it is, but I might just start the neck shaping down 1/2 an inch and maybe not pick up the stitches around the neck, but then again I might. This is the first tank that the sleeves don't roll and that's saying a lot! I sent two of my summer tanks to a friend's daughter who crochets to crochet around the armholes and necklines of two tanks for me that the straps didn't want to lay flat for me and I was sick of them curling.
Anyway, I guess enough rambling on about the project and I'll just let you see some pics. I'm so thrilled with this top that I'm wearing it today! I think the dk-weight fabric is also more wearable in the summer months than worsted too. Okay, here's the first picture from the front:
Project Specifics:
Yarn used: Sirdar Tango DK color: 156, a pretty, bright blue
Yarn composition: 58% acrylic, 42% nylon
Size made: first side, size 42", back side size 36" (?)
Date started: July 1st or 2nd, 2003
Completed: September 13, 2005
from the back:
and with a surprise twist, the Tango tank, as I am now enjoying calling it paired with a OSW:
Yesterday was a good mail day, although not as good as
Cathi's
, courtesy of
Wendy
. She sent me some great gifts as a thank-you for test-knitting her pattern and I was so surprised and pleased. Purple
is
my favorite color, unlike
some
people
I know. Which is funny b/c I don't think most people know what my favorite colors are. When shopping for my birthday gifts, Stacey told me it was hard shopping for me as they've seen me knit with lots of different colors, so it's hard to tell my favorites! Which is true, I've knit with all sorts of colors, so from gauging from my knitting, one might have a hard time deciding.
Anyhow, I am showing a picture of my lovely goodies, 2 skeins of luscious purple Cascade 220, 2 skeins of Noro Kureyon in a purple and other variegated colorway and a skein of Regia Strato sock yarn in black, reds, purples,etc. and a book,
Pursenalities
by Eva Wiechman, who is the proprietor of Wendy's LYS who wrote the book.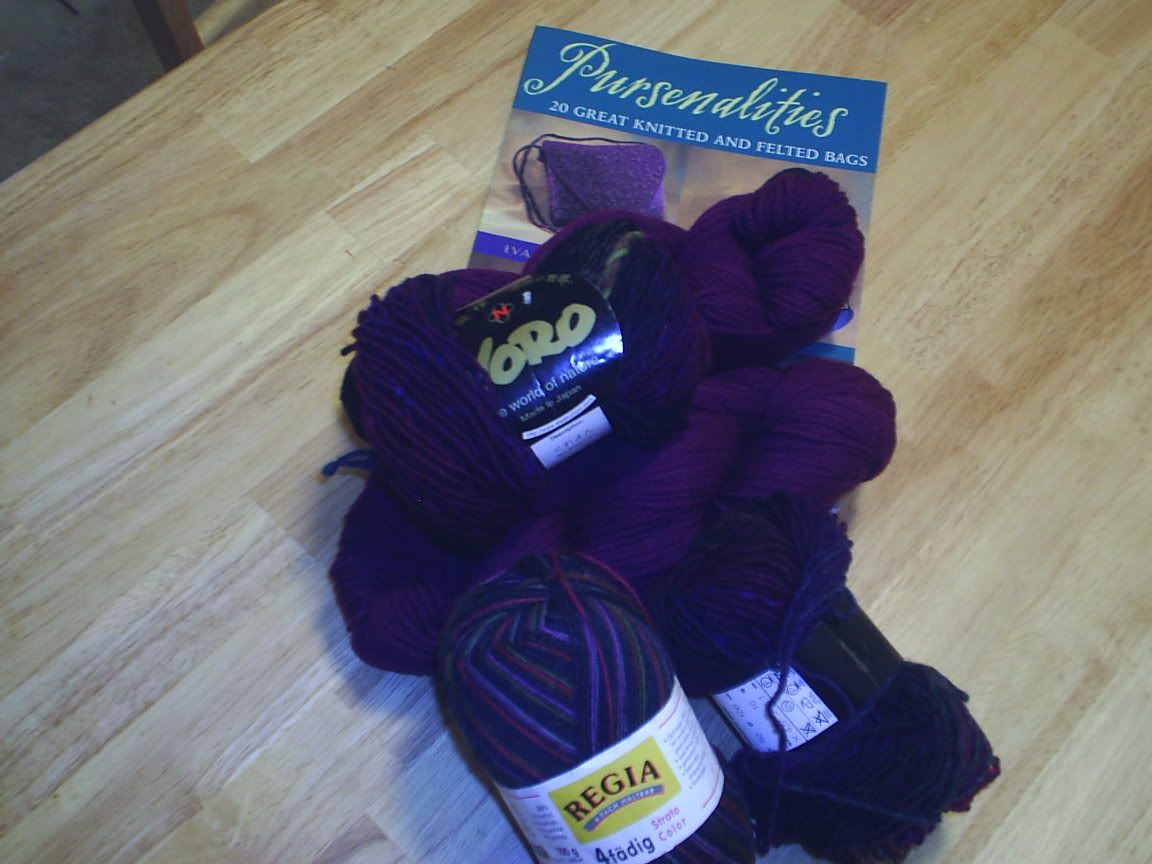 There's enough yarn to make one of the bags in the book that I wanted to make before I read her note indicating that was the same pattern I wanted to make, how cool is that? I love purple, so the mix of purple and black with the Noro is great and I'm very excited! Yay! Thanks again, Wendy!
In case any of you are interested, I also started another blog, one that is more personal in nature and non-knitting
here
. If you're not interested, no worries, don't check it out.