Some of you may remember a post about my
summer knitting lineup
in April. Well I thought since summer is almost over, we should have a recap at WWK to see what projects were finished and what wasn't.
First up,
1.
Tempting
in Katia Bufalo in a steel blue-grey color, Check!
Completed Tempting
2.
Donna
in a dusty grey color in Katia Beetle, not exactly a check! It has been started and almost completed, however the sleeves you see in the picture below don't quite fit, so I will be reknitting the sleeves. This project will not sit until next summer as I want it finished so it can be ready to wear for next fall, but it is not yet completed.
3. Cabled V-Neck Tennis Sweater from this summer's VK in Debbie Bliss Cotton Cash
This project was never started, although the yarn was purchased for it! It will be saved until next summer or rather early spring.
4. Reynolds' Jenny (variegated in a purple, green, blue colorway) for a seed stitch tank, also not a check. Decided I don't like the colors and it will be put up for sale on Ebay.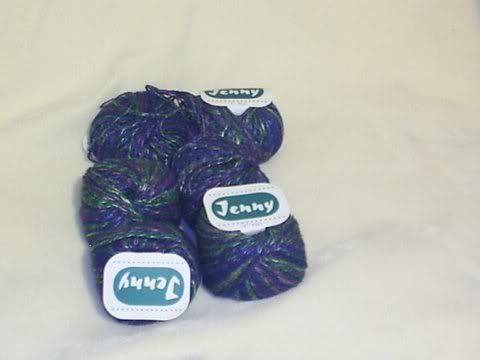 5. 4 yarns for multi-color poncho, which is supposedly a quick knit, and all garter stitch. This is a big 'ol check too. Done and completed.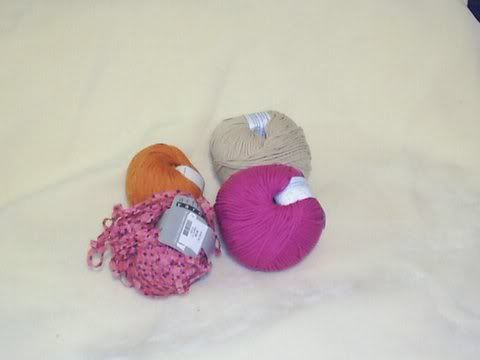 Completed summer poncho pic:
6. The front or back to a tank, one piece already finished from 2 years before, in Sirdar Rio. Double check-check! And no need to put up another pic as it was in my last post!
7. Finish the back of a V-neck tank in Katia Bonita (in a red-orange colorway) that has one piece finished and the second piece is 60-70% finished. Triple check-check-check! I don't have a finished pic and not with me in it, but both sides are sewn together. This top requires some yarn pulled through the Vneck to give it a dropped stitch look, but I'm not sure if I'm going to do it or not. I know I have a little of this yarn left over to do it with, but I can't find it. And as one ball costs $9, I'm a bit reluctant to shell out the cash for a little string of yarn that I need, so we're undecided at this point. I'll just give you a pic of both sides finished. I also had a friend's daughter add crochet around the armholes and neckline, which takes the V up a little higher, so I may just wear it without the Vneck detail and call it a day. If I wear it today, I'll try to get a pic in.
So I would say 5 out of 7 projects completed or on the way. Not too bad. We knew all 7 of them wouldn't make it, it was a pretty ambitious lineup to begin with. And with 5 projects completed or mostly, I also managed to finish up 2 pairs of socks, the Waffle Stitch socks and the Sockapalooza socks, a nursing shawl for my sister and 2 one skein wonders. Not a bad summer after all, eh? I'm quite impressed.
Now I'm off to shower and go see my favorite middle schooler run at a cross country meet. Guess whose stepson made the cross-country team?
Happy knitting all!