You know you're in for a good time when your evening starts like this:

When we arrived at
Michelle's
, a skein of Lorna's Laces was there to let us know we'd arrived at the right house. Michelle and Mr. Sittin' were great hosts. Mr. Sittin' made us many a margarita or poured wine if you preferred. We had lots of great snacks to nosh on and we twittered on until late into the night. We got to go through Michelle's stash, which is plentiful and lovely, and finally near 2 am we realized if we were going to get up at the butt-crack of dawn,we needed to get some sleep. Poor
Stacey
didn't get to stay over and had to drive back home, but amazingly, she did knit throughout the night. It was a first, truly!! :-0
The next a.m. after only a few hours of sleep, we headed out to Estes. I talked
Cynthia
into riding with me up to the Starbucks where we were meeting other friends, probably much to her dismay. We got to talking so much, we missed our turnoff and thankfully our friends waited for us while we took a back road and finally made it to the meeting place.
Once we got to Estes, the whole pack of ladies spread like wildfire. No one really stayed with anyone for long, just going from booth to booth checking out yarn.
Lesley
and I kept running into each other around the same booths for much of the day, it was pretty funny. While I had a great time at Estes, not too much yarn was actually purchased by me. I did buy some, but I realized later that the majority of things I purchased were for my Secret Pal, which was pretty fun to shop for.
Here's my sad little bounty from Estes (that I can show:)

At first my strategy (as if there was really one) was to walk around everything once and then go look at those places that really called to me. There was lots of rovings and fleece that I wasn't interested in, so much of that was easy to exclude. However, I passed one place,
Yarn Today
, that wasn't necessarily spectacular, they just carried Trekking sock yarn and I saw a pretty skein (pictured above)and I bought it. Then katty-korner from them, was Plain & Fancy Sheep & Wool.
I absolutely *heart* this vendor. They only do a few trade shows a year. They are located in Henderson, TX and have no website. They don't even take credit cards, just cash or check. But they have lots of variegated yarns, which I love, in sportweight and not as pricey as Brooks Farm, which I do like their yarns, but when I got to Plain & Fancy, I knew whatever I wanted, I needed to buy then. The good stuff doesn't stay long. I learned from experience at my first Estes 3 yrs. ago when we went up on a Sunday and there were only 1 or 2 items left in variegateds, not enough to make a garment with. But this year, I stopped myself from buying enough for a garment and actually bought the two skeins you see to make a
Clapotis
.
We took a break at one point for lunch and really just had a snack and then hit the market once more with a fierceness! On our way out,
Cynthia
got to pet a llama

and then we took a group shot:

By now, you probably already know who the regulars are, so I'll be lazy and not post them.
And just as a teaser: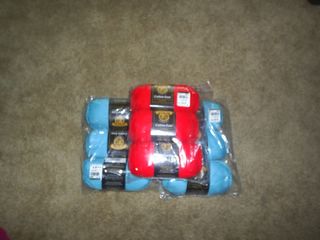 Just take a guess as to when I got those?