Not sure how wild it will be and even if it will be that Woolly, but I'm going to
Estes
tomorrow! I'm excited. I too will be a
.
So cool, I'm pretty excited.
Michelle
is hosting the
MHC Knitters
at her house tonight for a knitty get-together as well as sleepover, if we like. As we will head out in the a.m. and meet other knitters that couldn't stay over at Starbucks and then onwards to Estes. This will be so much fun. I'm very excited. Oops, looks like I said that already.
That said, I almost decided against going. I felt like I just lost my job, so I really shouldn't be going to spend money on yarn. Although before I was laid-off, I planned on going but not spending too much anyway. M told me that knitting was something I loved and I should have fun. He also said that I knew I couldn't go too crazy, but I would probably spend something and just enjoy it. Since knitting brings me pleasure, I shouldn't feel guilty about it. That did it, and I decided to go ahead and go then. He's such a sweetie. I feel a little bit guilty about being gone tonight, but not bad enough that I won't do it! :-) He's such an understanding and supportive guy. (Awww!)
And lastly, I wanted to let all the Denver area knitters know, via the knitting drum signal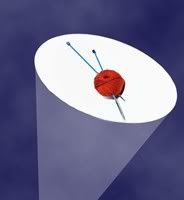 that
Nik
drummed up regardings sales.
A)I've heard on more than one blog that Tuesday morning has Cotton Ease on sale. I'll check it out after the weekend for sure.
B) Strawberry Tree will be having its annual summer solstice sale. On Tuesday, June 21st, from 4-7 p.m., there will be a sale for 35% off all non-sale yarns, including Garnstudio and other kits, books, needles and other accessories. Not to sound like an ad, but it's my favorite LYS and 35% is a great price. For summer yarns and any wool yarns and other stuff there!
Enjoy your weekend and happy knitting all!