And I just can't hide it! (ha!) Sorry to bring up a song there, but I'm so excited about what else? Yarn! I've been lusting after this Debbie Bliss sweater from the current Spring/Summer 05 issue.
I've seen
Wendy's
finished version and a couple others out in blogland's progess and have wanted to do it. I saw this pattern as one that I would save, but who knew when I would actually make it. I like the Debbie Bliss yarn, but didn't want to drop the money required for the Cotton Cashmere. The yardage isn't that great on the yarn and it's hella expensive. I don't mind spending money on yarn, that's obviously not a problem. But at retail prices, this yarn could easily cost me upwards of $100 or more. But, before you think all is lost, there is/was yarn redemption. Last night I stopped at Strawberry Tree, my LYS. You gotta love a LYS that's on the way home so you can stop in on and visit frequently. I hung out there and picked up the new IK Summer issue, which is ok, but I still wanted the mag. Anyhow, I digress. The point is that they have some Debbie Bliss yarns on sale. Whilst looking at some Rowan Wool Cotton and other yarns to possibly make a baby kimono, I wandered around and saw some Debbie Bliss Cotton Angora and Cotton Cashmere. When these yarns came out last year, I really liked them, but never got to play around with them. It kept resounding in my head, $4/ball, I could do something with this.
When I got home last night and read someone else's blog about Wendy's finished Tennis Sweater, I hopped over to her blog and then it hit me that it was made out of Debbie Bliss Cotton Cashmere! All last night I kept dreaming of this yarn and this sweater and how it is my Must-Have! I called the LYS this a.m. and have two colors on hold for me. They have enough in two colors, a beige color and a pale blue. So I think I should be ok in terms of yarn and it's only $56, not incl. tax. I'm way happy. And there's nothing I love more than a sale! Wanda loves to save some money, honey!
And just as good or even better, is buttonbuttonbutton! My friend,
Joanne
asked me if I had a button and I told her no. So she made one! Isn't that cool? So go ahead and take one! You know you wanna. ;-0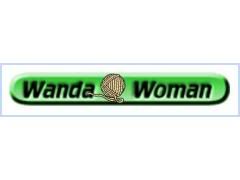 I decided, at least for now, doing the Continental knitting style isn't for me. I'm not against it, but I also have no pressing need to really do it. My knitting is fast enough for me. I'm not doing it to win a contest (as my friend Susan says) and my stitches are pretty even, so learning a different method isn't to correct anything. I did find that there are lots of different methods out there to purl Continental style and a few great websites with videos, so it will be something I try again.
I finished some things, so here are some pics of those:
The baby blanket for my nephew Chason finished

to add to the baby blanket, I also worked on a pair of baby socks and a hat, in the picture below you see one finished sock and one in progress, the second sock has now been finished as well

And something that's not quite finished, but all I have to do is add the pompom. I found this pattern courtesy of
Kittyville
sans the kitty ears. I should get the pompom done by this week's end.

I also decided since I was making all of these things for my nephew, I should make something for my sister. A person in one of my knit groups was making a nursing shawl for her DIL. That sounded like a good idea and I have some Encore in a neutral colorway that I think my sister would like. My mother seemed to really like this idea as well.
I'm really happy that I decided to not do the Contintental thing, just because I really didn't feel like working on projects in a different manner at this time. I've just been really ready to knit on some new things for me, so I should just get to them! With that in mind, I'm going to cast on for Donna and probably Tempting in the next few days. I will most likely get Donna cast on today. I can't remember what size needles I used to get gauge for the Tempting, so I will have to play around with that one again before I get cast on, but more fun!
Hasta luego!