Bad blogger that I am, I realized that I never followed up on the Cotton Cashmere Cable V-neck sweater. I did go to my LYS that evening and the color I found
Debbie Bliss Cotton Cashmere Color 11
in a medium blue is an even deeper blue that makes me think it's almost teal, but it's not. There were 14 balls of the medium blue and I chose an off-white color as the accent. I took a pic of just three balls, b/c I was lazy and had put the rest away. Two are the medium blue colorway and one is the off-white.

I also failed to mention the previous week,
Stacey
and I met up before going up to Lesley's to trade some yarn. I got this:

which are totally my colors and the yarn is Lane Borgosesia Clasico, and is a mix of 48% wool, 31% cotton, a little silk and polyamide thrown in. It's a reddish-orange colorway.
In exchange, Stacey took some
Interlacements Peru
,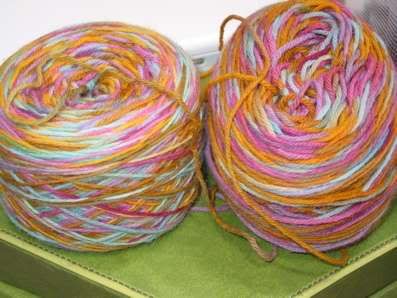 off my hands. I made the Three Point poncho from
Hyphen Boy Designs
and just loved it. Stacey did too and as I had no more use for this yarn, we made a happy trade.
This Friday, the MHC Knitters group met again at
Supermodel's
for a get-together. Sorry I took no pics, but check out Cathi's blog,
Michelle's
,
Felicia's
or
Stacey's
blog for pics. Bad blogger that I am, I didn't take pictures, but I just didn't feel like it, so oh well.
As usual a great time was had by all. Especially getting to meet Felicia. She is a blast and had us laughing all night long! She's really a fun girl. I can't wait till the Mile-Hi Knitters take our show on the road and head down to the Springs to see Felicia. It'll be a total blast!
I wasn't as bad as Stacey, not getting anything knitted on, but do you ever have one of those days where everything you do is destined to fail? Well that was my night. I brought yarn, needles and pattern to cast on for
Donna
, however, I had the wrong size needles to cast on for it. Then I tried to do a swatch in seed stitch, but because I wasn't paying attention, several rows became 1x1 ribbing. I did however swatch some Katia Buffalo I have in a dusky blue color similar to the Debbie Bliss Cotton Cashmere, but slightly darker to make the Tempting in. That was the only thing that went well.
I did cast on for the Tempting yesterday and have thus far only gotten as far as 2 inches into the body. Here's a pic of the cast-on, just so you can see the picture.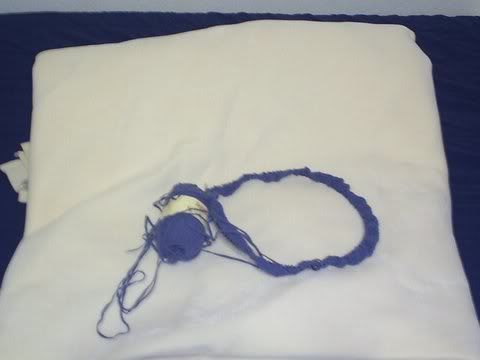 I went to another knit group, DenverKnits, that meets twice a month, 1st and 3rd Saturdays at Park Meadows Borders on Saturday. I just have to show you what one of the ladies there finished. Linda took a class with
Joanne
earlier this winter on the Color on Color Scarf from Scarf Style and she presented her finished scarf:
The front:
and the back: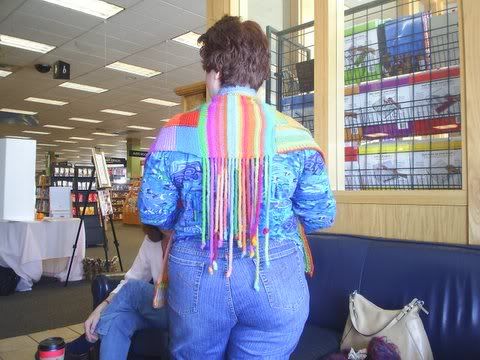 I do plan on casting on for Donna soon, but it might not be until this week's end. I want to make a little progress on Tempting b4 starting another project. My main focus is to get started on some projects before I go to NYC so I can have knit on the plane and while riding to NC as well.
I have to admit, I was feeling a bit intimidated by the Vogue Knitting V-Neck sweater. I knew I could do it, but I was a bit hesitant about the extensive cabling in this sweater, as I've done one cable that was a 6-st cable, but it was only one, worked up in superbulky yarn and that was over 3 years ago, so I wasn't sure. I was going to go to my LYS on Sunday and have them help me with the swatch, but once I sat down and read through the cable pattern, I realized it was no big deal. I mean, I will have to pay attention to what I'm doing, but I'm sure I can do it and that took a load off. I will play around with a swatch hopefully during this week, but maybe not. I want to have this ready to be in rotation while I'm in New York as well, but I might start it just before I got, get the ribbing done and have established the cable pattern just enough to be ready to take it on the road!
I find it interesting that I've been finding more and more patterns with texture and cables than I've ever done in the past. I usually liked some textured knits, but don't want to do the work involved in them b/c most of my knitting time is when I am watching TV or with friends. Therefore, unless it's something I really want to do or the piece has some ribbing, seed stitch or moss stitch that is one portion that I concentrate on and then I go back to my mindless knitting. I'm not even sure why I am wanting to do more texture, I was actually starting to feel like I would never most past that, but at the same time I love knitting, so I figure just do whatever is best for you and if I wanted to do more, I would. With all this texture, I'll probably be glad to have my sister's nursing shawl to work on which will be mostly garter stitch with some yos and k2togs to keep it interesting.
Tomorrow, I'll show you what my proposed summer lineup of knitting consists of. I'm probably totally crazy (well, I think most people would agree just crazy!), but I have quite a few items I would like to either finish (UFOs) or cast on and complete by summer's end. We shall see how it goes.
Lastly, but not least, I forgot to thank
Michelle
for her HTML help with my button last week. Thanks Michelle!